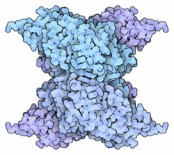 Ulteriori Letture sulla Selenocisteina Sintasi



L. A. Wessjohann, A. Schneider, M. Abbas and W. Brandt (2007) Selinium in chemistry and biochemistry in comparison with sulfur. Biological Chemistry 388, 997-1006.

S. Gromer, J. K. Eubel, B. L. Lee and J. Jacob (2005) Human selenoproteins at a glance. Cellular and Molecular Life Sciences 62, 2414-2437.



---
---

Molecola del Mese - Indice completo

PianetaChimica home